2021 Conforming Loan Limits Boulder County and Beyond
Posted by Kirk Wittig on Thursday, December 3, 2020 at 5:56 PM
By Kirk Wittig / December 3, 2020
Comment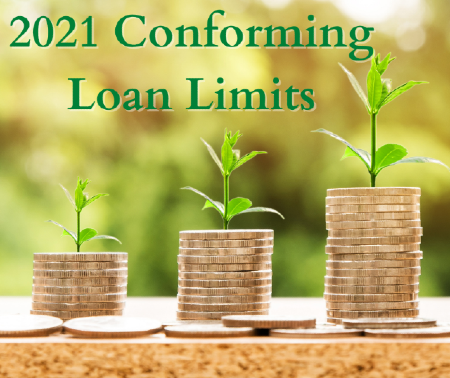 The Federal Housing Finance Agency (FHFA) announced on November 24, 2020, that the nation-wide maximum conforming loan limits for 2021 will increase to $548,250 compared to the 2020 limit of $510,400. The loan limit was increased as a direct reflection of the 7.42% increase calculated by the FHFA in their seasonally adjusted housing price index.
In our area specifically, a higher conforming loan limit was established because Boulder County satisfied the regulatory criteria which states that if "115% of the median home value exceeds the nation-wide conforming loan limit" then the limit shall be increased. Accordingly, in these higher-cost areas like Boulder County, the 2021 conforming loan limit is $654,350. See a full summary below.
'Conforming loans' refer to loans with origination balances below a specific amount as defined by law. These loans are then eligible for purchase by the two government-sponsored mortgage loan companies, Fannie Mae and Freddie Mac, to maintain liquidity, stability, and affordability in the mortgage market. Loan amounts above the defined limits (set for each county across the nation) are referred to as jumbo loans. Often times, interest rates for loan amounts that are on the cusp of this division fluctuate and an increase in the conforming loan limit may or may not translate to more attractive interest rates.
Conforming loans and Conventional loans are typically used interchangeably by Realtors®, but there are some differences. "Conforming" relates to whether or not the amount of the loan adheres to the limits used by Fannie Mae and Freddie Mac (these corporations purchase mortgage loans). A Conventional loan is not insured by the government but it does adhere to the conforming loan limits so that it can be sold to Fannie and Freddie.
The New Conforming Loan Limits Begin January 1, 2021
2021 Conforming Loan Limits for Boulder and Beyond (click for map)
2021 Boulder County Conventional Loan Limit: $654,350

2021 Broomfield County Conventional Loan Limit: $596,850


Denver, Broomfield, Arapahoe, Douglas, Adams: $596,850


Larimer County and Weld County: $548,250


Click here to access a spreadsheet of the full list of 2021 maximum loan limits for all counties across the US.