7 Suggestions for a Smooth Kitchen Remodel
Posted by Lauren Wittig on Thursday, June 20, 2019 at 8:36 PM
By Lauren Wittig / June 20, 2019
Comment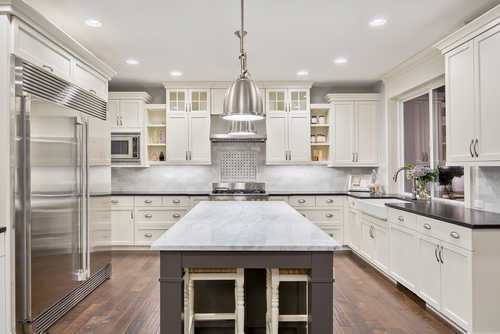 Kitchens are the hearts of our homes. They are also one of the best rooms in the house to remodel as a sizeable portion of the remodel cost can be recovered in the eventual sale of the home. Everyone loves a beautiful kitchen! A 2015 report released by the National Association of Realtors® reports that the median cost of a kitchen remodel in the U.S. amounted to $60,000. The report also cited that 67% of the total cost of the remodel was recovered during the home's resale. We agree that a kitchen remodel is one of the two wisest places to invest in your home; with the other option being your master bath. However, to maximize your return on this significant outlay of funds, you need to remodel wisely using the tips below:

1) Plan – Take your time to plan and really think through the entire remodel. More time spent up-front to think through all of the details will save you a lot of stress once construction commences. Some designers go as far as to recommend that the design and planning phase should take longer than the construction phase…go figure! In all seriousness though, let the following tips guide your planning process:
HGTV provides three different worksheets for planning, designing, and budgeting – check them out here.


Allow enough space for appliance doors to open fully – We've all seen or heard of stories of design snafus. Get creative in tight spaces with ideas such as this one.



Design around how YOU work in your kitchen – do you have a massive Tupperware collection and want to display it behind glass? Um, kinda weird but we're not judging. Do you need extra tall storage for your

Vita-Mix

and Kitchen Aid? Think about how your new kitchen will serve you and your family as you grow older. Add pull-out tracks in low drawers, consider a wall oven vs a stand-alone range, design a smarter pantry that promotes organization.


Build in Contingencies for Time and Cost – Do you need your kitchen to be completed by Christmas? Well, work to have it completed by Thanksgiving...to allow for inevitable out-of-stock situations or contractor scheduling snafus.

Decide on all materials and fixtures before commencing with construction – This allows tradesman to more accurately bid out their portion of your remodel. It may also help with the out-of-stock situations mentioned above.



Hire a Professional Designer – Unless you really feel like you can "own" the design, strategizing, material selection, and contractor hiring – you should hire a designer. Fees range from $75-$200/hour or about 5% - 20% of the total project cost.
2) Avoid Moving Big Ticket Items – Knocking down walls and relocating plumbing and electrical are costly and will take a big bite out of your remodeling budget. Here is a real-world example with great pictures of the project in all stages.

3) Choose Your Appliances Carefully – Pick your appliances based on their ability to help you work happier and more efficient in the kitchen. Yes, appearance and style are important but don't let these factors supersede everything else. Gas cooktops are impressive and do provide enhanced temperature control but those cast iron grates are a pain to keep clean. Who isn't impressed by an AGA cooker? But do you really need a stove that heats loads of water and dries your clothes?

4) Don't Skimp on Lighting – Plan for both task lighting and ambient lighting. Task lighting will allow you to work safely and efficiently. These lights are mounted under cabinets, hang from the ceiling as pendants, and can be recessed or on tracks to illuminate open counter surfaces or sinks. They are often installed as two or more to avoid creating weird shadows. Ambient lighting sets the general tone in the kitchen and draws people into the space. These lights can be a combination of recessed and wall mounted sconces and should always include dimmers.

5) Think of Resale – If you're remodeling a kitchen in a home that isn't necessarily your "forever" home then you need to consider how appealing your design choices and material selections will be to future buyers. Choose durable counter surfaces and quality cabinetry and flooring that will "wear" well during your residence in the home. On a similar note, hold off on installing super custom design elements like flooring the entire space with pennies. Side note: The same advice goes for bathroom floors choices like this one!

6) Setup a Temporary Kitchen – Install a few of your old cabinets and a piece of your old countertop next to the utility tub in your laundry room and voila – you now have a temporary kitchen. You will need a space to washes dishes, microwave food, and make coffee during the remodel. Go crazy and install a hotplate if you choose to cook. Here are some tips for surviving without your kitchen once the works begins.

7) Measure Twice & Cut Once – These tips are for those homeowners who choose to "go-it-alone" without a contractor. Take heed of the following common blunders.
Determine countertop dimensions based on measurements taken AFTER base cabinets are installed. Out-of-square walls and cabinets that are slightly off spec may lead to ugly gaps between the wall and counter if you order your countertops based on planned vs. actual measurements.


Pay attention to the potential for floor gaps. If you plan to keep your existing flooring and replace your cabinets than ensure that the new cabinet are similar in depth to the old ones. Otherwise, you will need to address ugly gaps between the base of the new cabinet and the floor. Molding will typically hide gaps less than one inch.



Thinking of adding an island? Build a rough one out of plywood and try it out. Make sure it is the same size you plan on installing and allows for the same aisle width in your design in order to evaluate whether it will work.