DIY Staging Tips: Ideas for Every Room
Posted by Lauren Wittig on Thursday, May 17, 2018 at 7:22 PM
By Lauren Wittig / May 17, 2018
Comment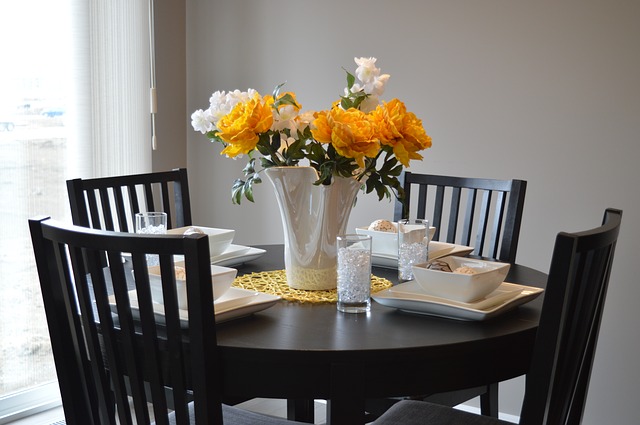 "You never get a second chance to make a first impression." - Will Rogers
Our regional market is hot right now. Multiple offers and bidding wars are not uncommon in this Seller's market. Do you want to maximize the profit from the sale of your home and entertain multiple full-price or over-asking offers? Then set yourself up for success by taking the time to spruce up your home so that every buyer that walks through it wants to call it "home."
Some folks assume that their home will "sell itself" in these market conditions without fixing or addressing functional and/or cosmetic issues. We respond by saying, "Yes, your home will sell but will it sell for the price you expect?" Trust us, it is worth spending the time to give your home the attention it deserves to make a great first impression. Follow these tips & techniques to get started:
Inside

Clear the Clutter – some buyers have a hard time seeing past clutter. Give them the opportunity to envision themselves living in the home by getting rid of piles of unread magazines and a refrigerator covered in your favorite magnets. Family photos, diplomas, kid's

art work

, etc. should be packed away now to get a jump start on moving as well as to avoid distracting buyers when they walk through. Make the process more manageable by tackling one room at

a time

. If time allows, maybe tackle one room per weekend to make progress while not feeling overwhelmed. Do you have a hard time letting go of things? We recommend reading The Life Changing Magic of Tidying Up by Marie Kondo to get you started.


Deep Clean – take the time to clean areas that are often overlooked during routine cleaning like baseboards, windowsills, blinds, light switch panels, light fixtures, etc. Dirty fingerprints, cobwebs, and dead flies are real turnoffs.


Repair – repairs should be categorized as either functional or cosmetic. Go through your list of each and prioritize the importance of addressing each item. We can help you decided what to address. There may be some big ticket items that require the help of a contractor or prior planning to resolve. Other things like a leaky faucet, burned out light bulbs, and broken blinds can be addressed fairly easily. We created a thorough checklist to use for this purpose. Email us for a copy.
DIY Staging – follow these tips to really make your home shine…
Living Room

Practice the 'rule of symmetry' when rearranging side tables, lamps, pillows, etc.

Practice the "rule of three" with wall hangings and tabletop accessories. Three objects create

a more appealing visual experience as the human eye involuntarily works harder when viewing odd vs even groupings.

Add table lamps to either side of the couch to make the room

feel cozy.

Clean the fireplace (if wood-burning) by removing soot and replacing the screen.

Err on the side of neutral colors when replacing any furniture or rugs and opt for bright or accent colors for pillows, blankets, & accessories.

Turn light classical or acoustic music on using your TV or Sonos.
Kitchen
Clear all countertops of appliances, cups holding pens, mail, etc.

Set out a few decorative items such as a bowl full of lemons, a vase of flowers, etc.

Get a jump-start on moving by packing up all but one set of dishware. Rid your pantry of half-empty chip bags and cereal boxes. This makes your cabinets looks more spacious and less cluttered.

Sprinkle cinnamon on a baking sheet and bake for 15 min at 350 to freshen up the space.

Get rid of fridge magnets.

Move your trash cans out of sight.
Bedrooms
Stay gender neutral in each bedroom by painting over bright colors in the kiddos rooms with light, neutral tones.

Give the room a new look by using new, coordinated bedding & pillows that you bought for your new home for the purpose of staging now.

Pack up and store away all of your clothes except for those that you wear this season to make your closets look more spacious.

Dining Room
Set the table with interesting plates, cloth napkins, and a set of wine or margarita glasses to encourage buyers to picture themselves entertaining in your home.

Consider an area rug underneath the table to define the space.

Remove and store extra dining room chairs that are normally stored around the periphery.

Bathrooms

Eliminate soap scum on glass shower doors using a 1:1 ratio of Dawn dish soap to white vinegar. Let the mixture sit for at least 20 minutes and rinse.

Consider replacing the grout in your shower if pieces are missing or have extensive mildew.

Strip and re-caulk around the tub or floor if pieces are missing or have extensive mildew.

Replace the shower curtain with a white one.

Add simple accents that evoke a spa-like feeling: a nice soap dispenser, a potted orchid, a basket with white towels, a new white bath mat, one or two white robes hanging on hooks.

Replace mismatched bath and hand towels with a matching set in an appealing color.
Outside
Clean up the yard – clear the yard of fallen branches, dead leaves, and dead perennial foliage. Neatly stack firewood. Remove unused trash cans, tools, and other clunky-looking belongings to help your yard appear more as a "fun, relaxing" and less of a "random storage" space. Hide trash cans and recycle

bins.

Add new mulch – add a fresh layer of dark brown mulch in garden beds and around trees to instantly upgrade the look of your yard, even in the winter.

Pressure wash - your home's siding, deck, front porch, driveway, and walkways.

Paint – any surface that is fading, chipping, or in general need of attention. A fresh coat of paint on your home's trim or front porch makes a big impact.

Hang new house numbers – Choose large, attractive numbers and hang them in a spot that is visible from the street.

Clean outdoor lights – Clear the cobwebs and dead bugs from inside the lamp glass. Replace white fluorescent bulbs that do not fit with warmer, well-fitting bulbs.

Replace doormat – Make buyers feel welcome as soon as they approach your home with a clean, new doormat.

Locks and doorbell – Ensure the lock turns easily and the doorbell works. If the doorbell button is cracked then replace it.

Mailbox – Clean, paint, or replace your mailbox if it looks old.
We're always excited to see what changes our sellers decide to make to their homes prior to selling. We're also happy to lend our advice. Give us a call with questions if they pop-up (720) 339-1500. We've been known to help spread mulch and are pretty good with a paint roller if you find yourself in need of help ;)