Join 100 Guys Who Give- Boulder County
Posted by Kirk Wittig on Sunday, January 24, 2016 at 1:56 PM
By Kirk Wittig / January 24, 2016
Comment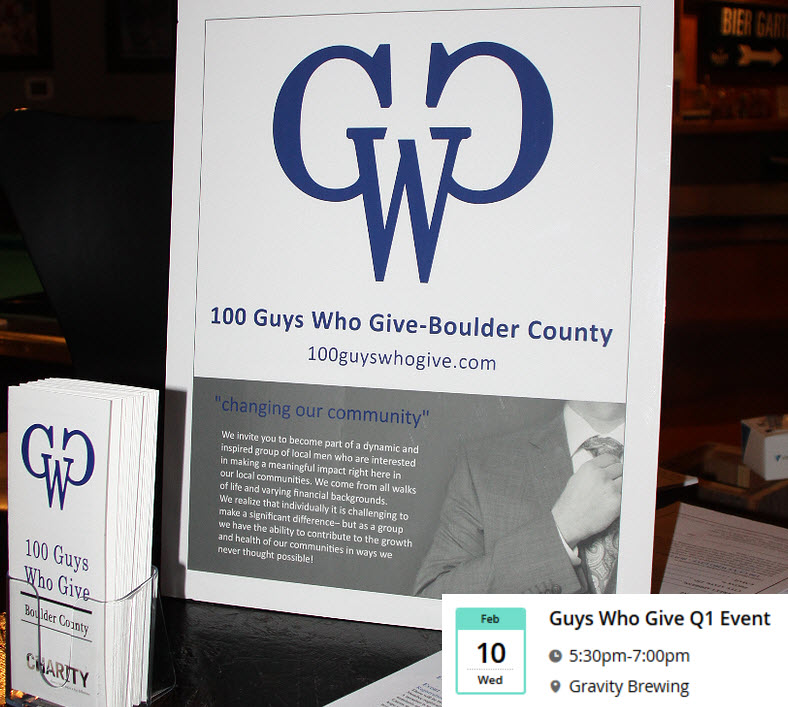 I thought I'd let you know about a local philanthropic group formed in 2015 called '100 Guys Who Give- Boulder County'. It's a unique way of giving that has really been picking up momentum nation-wide and Boulder County Realty is proud to be a member.
Here's what it is in a nutshell:
We're looking to get 100+ guys together each quarter (at Gravity Brewing in Old Town Louisville) with their checkbooks in hand and perhaps a suggestion for a charity, cause or need within Boulder County that they feel would be great to support. Folks can submit their suggestions in the box upon arrival. Justin Livingston (the founder) draws the names of 3 local charities from the box. The folks that made the suggestion give a brief pitch about the charity and then everyone votes. We all cut a check for $100 to the charity with the majority vote. Justin (and the guy who nominated the charity) sees to it that the checks are delivered.

The next time we get together, we usually hear from a representative (of the chosen charity) and they share how the money was put to good use. The goal is to get 100+ guys together, which will in turn inject $10,000+ into local charities each quarter. This is unique in that it opens the door for so many more folks to help make a significant impact within Boulder County without breaking the bank. All the while enjoying a beer with dozens of other like-minded folks!

The next gathering will be on Wednesday, February 10th at Gravity Brewing starting at 5:30pm. The brewery is closed to the general public at this time. From 5:30pm to about 6pm, you can mingle with others while enjoying a beer. Justin gets things started at about 6pm and the whole process is typically about 15-25 minutes. You can then stay afterward and continue to enjoy great beer and great company. If you can't make it, you can mail Justin a check (made payable to the chosen charity) and he'll add it to the others.

100 Guys Who Give- Boulder County Facebook page
100 Guys Who Give- Boulder County website