Yard Upgrades 2.0 - Gardening, Games & Gear
Posted by Lauren Wittig on Tuesday, April 9, 2019 at 6:51 PM
By Lauren Wittig / April 9, 2019
Comment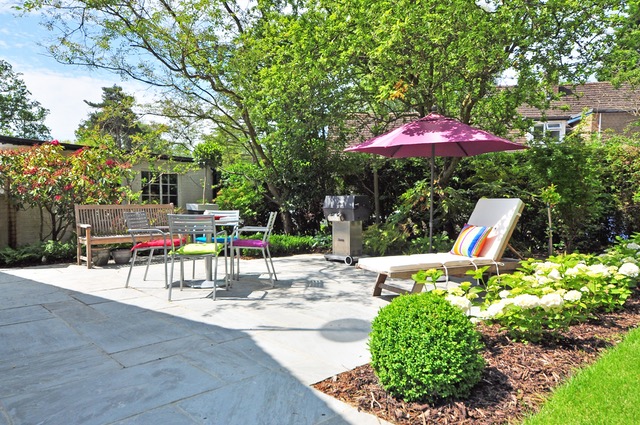 It's Spring! Temperatures are warming, trees are blooming, and some of you may have even fired up the outdoor grill for some weekend BBQs. Are you thinking of ways to spruce up your yard in preparation for a summer of fun in the sun? Our yard makeover list provided below is full of unique ideas.

1. Upgrades that Conserve Water:

Replace flower beds with a water feature – Replace water-intensive grassy areas with a water-conserving waterfall-type feature that recirculates water. Pondless-type water features are fed via a below-ground reservoir that is covered by rock, thus helping to reduce evaporation.

Plant native, drought tolerant species – Pass on those plants that have high water and maintenance needs (i.e. dead heading, pruning, etc.) for native species that are proven to thrive in the Colorado sun and heat and still look good! We love to use Plant Select, a website sponsored by Denver Botanic Gardens and Colorado State University, to find plants for our yard.

Hardscaping – Replace some of the grass in your yard with "hardscape" to diversify the way that you enjoy your yard. Stamped concrete or patio pavers make a great surface in which to place a table and chairs for outdoor dining. Install a natural gas firepit surrounded by a gravel path. Or combine hardscape with gardening by surrounding your raised beds with gravel or paved paths.

Go Faux – Do you have a patchy lawn where grass doesn't grow well? Consider replacing it with synthetic turf. The initial upfront cost is significant but over time you may find the investment worthwhile when you no longer have to re-sod or re-seed, fertilize, water, and mow. Click here for some ideas

2. Uprades that Grow Veggies:

Build raised garden beds – Veggies grow great in raised beds in our region. Their roots don't have to compete with the high clay content in our ground soil and you are able to plant earlier in the season if you opt to cover your beds. You can build your own and find ideas for designs here.
Join a community garden – Alternatively, rent a garden plot in a community garden and meet some friends while you tend your veggies. Community gardens charge you for your plot, water and overhead costs in exchange for a plot with accessible water. Here is a list of community gardens in our region.

Boulder – Hope, Centennial, Holiday, Foothills, Living Harvest, Hickory, Hawthorn, Fortune
Longmont – Alta Park, 11th Ave, Roger's Grove
Louisville – Kerr
Lafayette – Wilson
Erie – Kenosha Farm

3. Upgrades that Increase the Fun Factor
Build an Outdoor Kitchen – Surround your stand-alone grill with stone counter tops, a bartop, or design the kitchen from scratch. Get inspired with these designs.
Build a Ping Pong Table – Ping pong can get pretty competitive in our home! It's a great way to pass the time until dinner is finished cooking on the grill too. This DIY outdoor concrete ping pong table is a great alternative to buying one at the sporting goods store. Plus it can double as a second table when your guest list gets ridiculous ;)
Take Entertainment to the Next Level – Turn your yard in the PARTY yard with these twists on typical yard games. Night Light Cornhole anyone? Keep your frosty beverages in easy reach while playing horseshoes. Bring the movie theater home to your yard.
Designate a Kids Play Area – Your kiddos will love these alternatives to the standard background swingset. Setup a game of bug and bee tic tac toe. Invite them to hopscotch through your garden. Build them a waterwall.