Our 18 Month Home Satisfaction Guarantee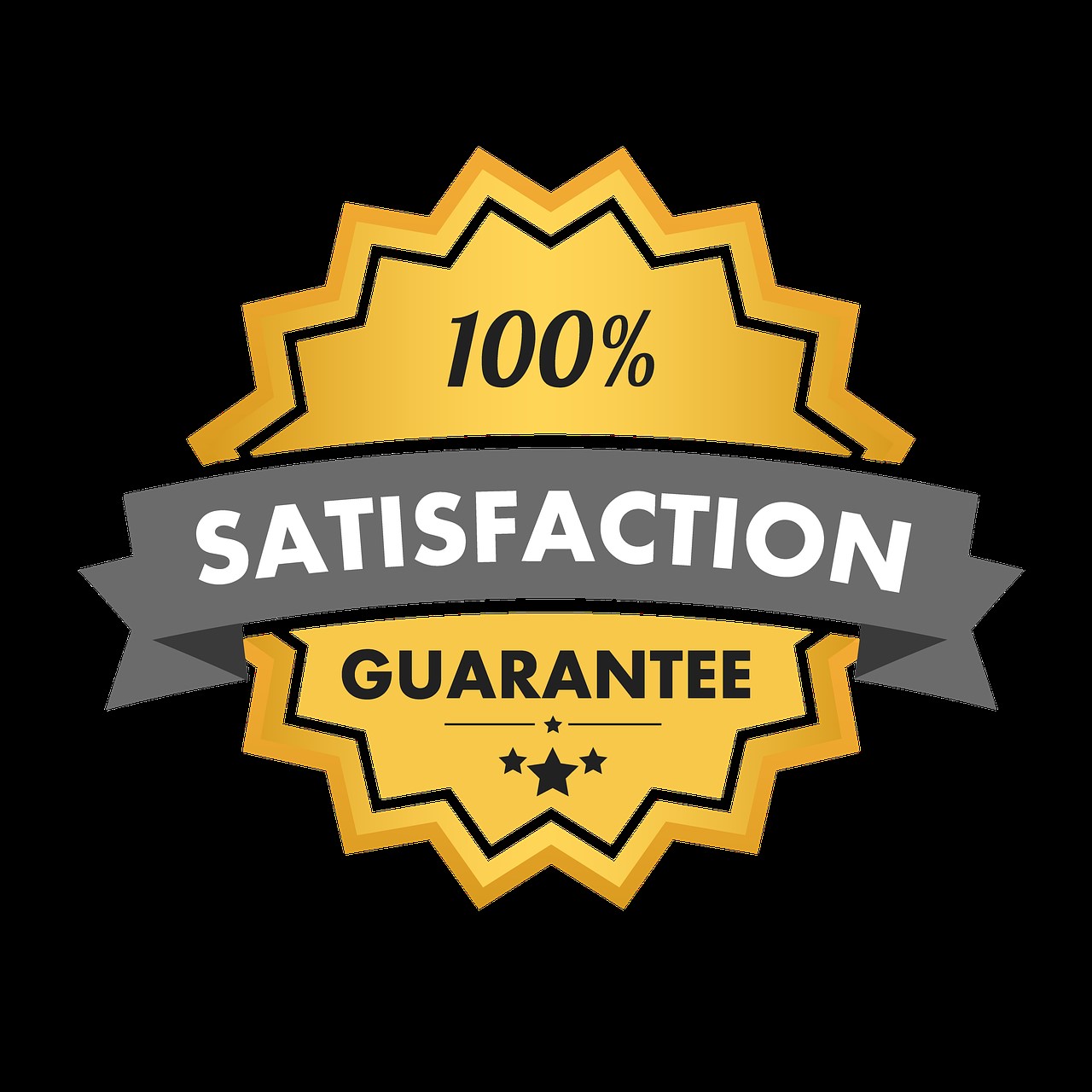 Who wants to be stuck with a home that may not actually be the best fit?
Buying a home is a big and expensive decision. While we collectively do everything possible to ensure the home you buy is the right fit, the truth is that you simply won't know all there is to know before buying. What if the neighbors next door are chain smokers? What if they are an aspiring rock band practicing in their garage a little too often? What if.... you get the point. Sometimes things nearby will affect your quality of life and there won't be much you can do about it...until now.
Here is the 'Fine Print' that we insert into our Buyer Agency Agreements so you can be assured that you are making the right choice when buying a home through us.
We want you to be fully satisfied with the home you purchase as your primary residence. So, if you buy a primary residence through us and for whatever reason are not satisfied with it, simply reach out to us within 18 months of the closing date and we will sell your home for free*, including our premium marketing package to ensure you get maximum exposure and top dollar.
*Note- you will be responsible for compensating the agent that brings the buyer 2.8% of the sale price, however, our services to list, market, negotiate and sell your property (typically 3.2%) will be provided to you free of charge.
Some of our Client Testimonials
We worked with Kirk Wittig of Boulder County Realty. He was AMAZING! He made the selling and buying process as stress-free as it could possibly be! He is incredibly knowledgeable, never annoying and we always felt like he was putting us first and working hard for us! I hope we don't need to use him again in the very near future (because I hate moving!), but I give my highest recommendation to anyone looking to buy or sell. I know you will be as impressed as we were!! Thanks, Kirk!
Andrina S.
I recently relocated to Boulder and worked with Kirk to buy my condo. Kirk was recommended to me by a colleague. He was every bit the expert and skilled negotiator throughout the entire process. I found my condo in record time thanks to the fact that Kirk listened to my gotta-haves and never evers . He was truly my advocate during the offer and inspection phases. One thing is for sure, he won't let you go hungry while house searching! He introduced me to an adorable local restaurant over lunch and the best ice cream on the planet! Hmmm..Glacier Homemade.
Caty M.
Kirk was great to work with. He had asked us several questions in the beginning of our search for a home in Louisville and clearly listened to what we had been seeking. He had suggested a few homes in addition to the ones we wanted to see. Somewhat shockingly, we fell in love with one that he had picked out. He even got us a great deal on financing a brand new kitchen and two new bathrooms wrapped into our mortgage. We have a great interest rate and he also got us a moving truck when we moved (we just lived 20 minutes away). What more could we have asked for!? It's as if he anticipated everything we would need before we even knew we needed it.
The best part of all? He didn't cost us one penny! The sellers paid him a commission. This was our first home purchase so we weren't initially aware of who pays what.
We asked lots of questions and he answered all of them. Some of them he didn't know right away but he quickly reached out to one of his seemingly numerous contacts and had our questions answered. Super happy that we found him! Thanks again, Kirk!
Deb K
Kirk was professional and a pleasure to work with. He clearly understood our particular needs and only showed us properties that fit our criteria. He was well prepared when he took us to look at properties and is quite in touch with the local market conditions. The entire process went quickly and smoothly, thanks to his knowledge, forethought and experience. If/when we need a realtor in the future, we absolutely will call Kirk.
Gary J.
Kirk is a fantastic realtor who always keeps the best interest of his client's in mind. He is readily available to answer questions and attends to the needs of his clients. Kirk's approach is very professional but also personable, which makes the process of house hunting enjoyable!
Jeanne C.
I was out of town on a work assignment the entire month of my home purchase. Kirk was my buyer's agent and did an amazing job of making me feel like I wasn't 1800 miles away from a huge investment. He is extremely responsive and knowledgable, but most importantly he has great integrity. He was honest and straightforward with me at all times and went out of his way on many occasions to correct other peoples shortcomings. One example of this was when the home inspector did not complete an attic inspection and refused to go back without additional payment. Kirk took it upon himself to make sure that the inspection was completed satisfactorily.
Jim D.
As long as we're living in CO, Kirk will be our go-to Realtor. He helped us sell our home in Boulder and from our first meeting all the way through until we sold, Kirk was proactive, straight forward and responsive to our needs. We're still working with him as I write this. While it took us a while to find a house in Louisville with the amenities we were searching for, he patiently hung in there with us and we're now about a week away from buying our dream home. Something else that has stood out about Kirk is his ability to negotiate. He mentioned that he had been through some negotiations classes back when we had first met him and my wife and I hadn't thought much of it at the time. Kirk is a bit of a chess player when it comes to negotiations. He's pointed out things that we would have never thought of when buying or selling and has proven to us just how valuable he is! Hands down, Kirk Wittig is the best Realtor we've ever worked with.
Ken S.
We had a wonderful experience working with Kirk Wittig in selling our home in Fort Collins. Our neighborhood was actually going down in value and new homes were about to be built near our house adding even more urgency to sell before it dipped more. We had our place on the market for 9 months and had to fire our real estate agent since she was getting zero results. This is when we met Kirk who was referred by another friend of ours as a great agent. Kirk came out, took his time explaining why our house didn't sell and how some minor improvements, professional photo's and exceptional marketing (which he really did well) would get our home sold quickly. After making the improvements that he recommended, our house was back on the market in two weeks and we sold our place in just over a month! Not only that, but we got a fair price even though the buyer was trying to play hard ball (because we had another buyer who also wanted it). Thank you Kirk! I highly recommend him, not all agents are the same, there is no doubt about that.
Nick K.
I've got to say that I have never cared for Realtors! I've had so many horrible experiences with incompetent Realtors over the years. That and several friends have had less than competent agents too!
I got Kirk's info from a colleague of mine that said just try him . I had him over and of course, everything sounded great but I was resistant to sign up (not because of him, but with any real estate agent). He got me to do so when he showed me a service guarantee which would allow me to FIRE him at any point if he wasn't doing what he said he would. OK- game on! I wish I had been handed those in the past!!
You can probably tell where this is headed- that's right, I never did fire him and honestly, had a great time working with him. He helped me sell my house just as he said he would and helped me buy another. I'm now exactly where I had envisioned being and he even got me one heck of a great deal. Take it from me, this guy is great at his job. He's not all slick and polished like the others I've dealt with and I like that. He's a straight shooter, and that goes a long way in my book. All Realtors aren't the same after all.
Paul H.
Kirk Wittig is a great Realtor. He really knows what he is doing and is an excellent negotiator, you can be sure you are getting the best deal possible. He is also incredibly professional and well organized. I have worked with many Realtors and Kirk is one of the best. He will take care of everything to make your transaction as seamless as possible. I had a very difficult financing situation and Kirk was there to help me jump through the many hoops associated with the transaction. Everyone said it would be a miracle if we got the deal done, but Kirk found a way to get it done. Hire Kirk as your Realtor and you can trust you will have a someone who will really work for you.
Russell L.